Welcome to the ValueBioMat online research exhibition!

Here, some chosen research results are presented in form of Research Cases.
Research Case 1
Simulation Modelling Plastics Circulation
Challenge:
What are the points of highest impact for increasing plastics circulation?
Solution:
With simulation modelling we can test alternative assumptions at the macro level , while considering uncertainties
We test different changes to this system, and observe how linear and circular flows change in the system (image on the left)

Learn more about this research: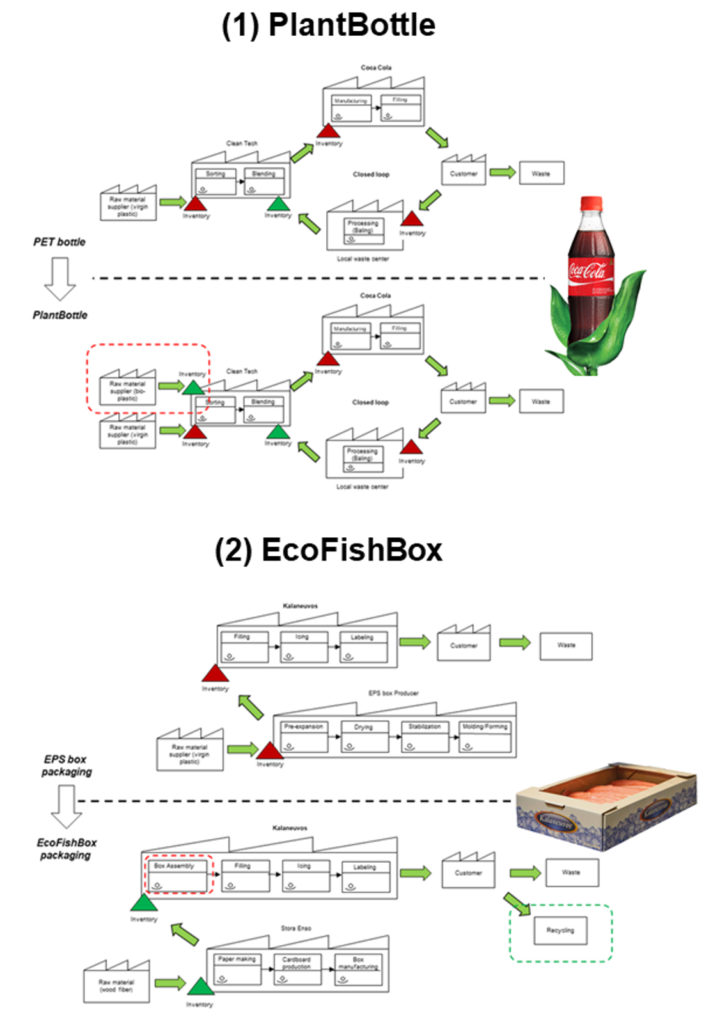 Research Case 2
Author: Alireza Jaribion, Aalto University
Impact of Bio-Based Packaging on Supply Chains
Challenge:
Governments are introducing legislation and regulations to control plastic pollution, and companies are moving toward greener packaging to reduce waste and enhance their brand image. Accordingly, bio-based packaging (BBP) has shown substantial growth as the demand for biomaterials is expected to grow tremendously in the coming years. Therefore, the question arises: What are the implications of BBP on supply chain complexity, and how does the adoption of BBP within companies vary based on these implications?
Solution: 
We examined two BBP solutions—Coca Cola's PlantBottle and Kalaneuvos EcoFishBox—as our case studies, selecting the end-product manufacturer's perspective to analyze supply chain complexity and its implications for BBP adoption. Our findings reveal that BBP has the most significant influence on upstream and internal manufacturing complexities. Moreover, by paying specific attention not only to the material but also to the logistics, assembly, and recyclability of the new packages at the customer's end, BBP implementation can decrease supply chain complexity to support BBP adoption. Our study also provides insights for managers to consider supply chain complexity in the design of sustainable packaging solutions, which can increase production efficiency and lower the cost of BBP, thus removing additional barriers from the adoption of sustainable packaging solutions.
Learn more about this research:

Research Case 3
Challenge:
Many products that we regularly consume are based on damaging and unsustainable 'extractivist' practises. Extractivism is more than just (mis-)using the earth and its resources. It is a mindset dependent on, inter alia, demand of raw materials extracted in high volumes for a society that continuously demands production of new items.
(Click to view: Info on Extractivism)
The recent paradigm shift towards digital manufacturing, supplemented by novel 3D printing technologies, could potentially help limit extractivist practises. 3DP technologies can:
Facilitate on-demand production, in which products are manufactured only when required and in quantities needed, thereby tackling the issue of overproduction.
Enable part consolidation and design optimization – less raw materials are wasted in comparison to traditional manufacturing.
Enable repair, maintenance, or upgrade of existing products/machines, thus reducing demand for new products.
Benefit local communities when locally available raw materials are turned into high-value goods close to the location of the extraction of the raw materials.
Yet, the sustainability benefits associated with 3DP technologies do not currently get enough attention. This combined with various constraints and bottlenecks in the production system are hindering its mainstream implementation across areas that have the most potential in tackling extractivism. One way to overcome these obstacles would be to support 3DP and other associated digital manufacturing tools with suitable regulatory and legal frameworks.
The aim of this research work is to identify 'future legal and ethical paths' that promote sustainable use of digital production technologies, to move away from extractivism. In order to achieve this, we follow a three-phased approach utilising scenarios – linking together impacting factors from wide-ranging fields into narratives on how the future will develop itself and what impact it will have on the social-ecological systems.
(Click to view: Info on Methodology)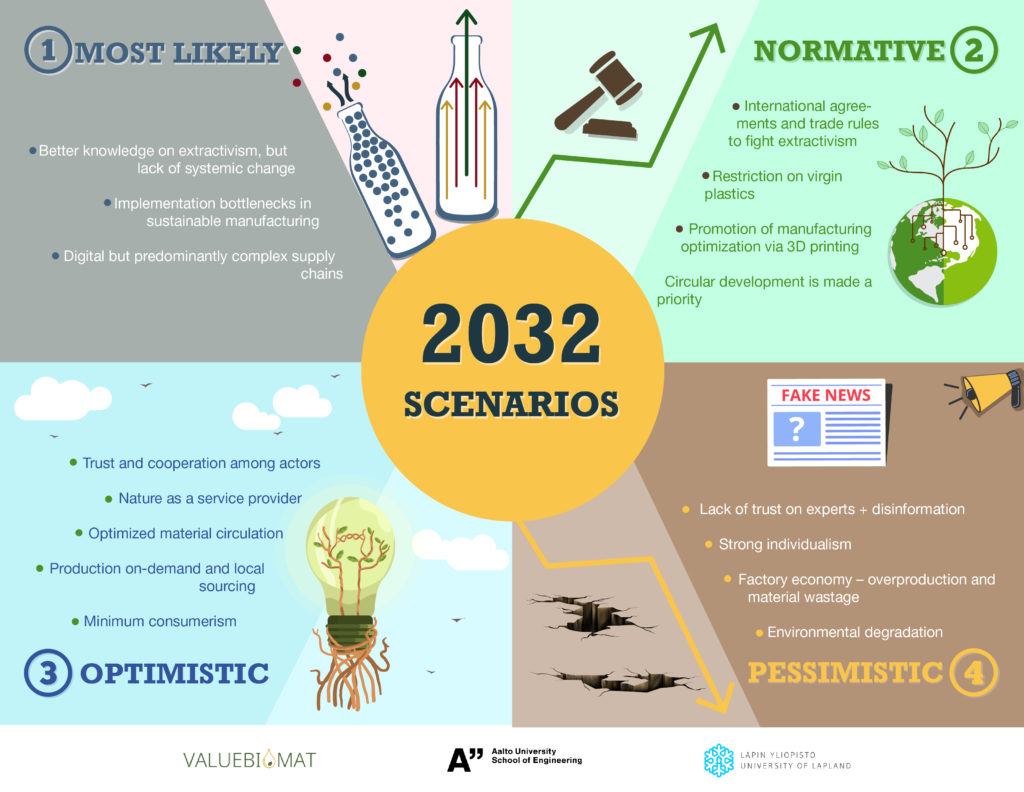 Design credit: Amna Qureshi, Doctoral Candidate, Faculty of Art and
Design, University of Lapland
Solution(s): 
Initial outcome includes four scenarios that narrate alternative perspectives on extractivism in the year 2032, the associated production system with its enablers, and the consumer mindset and governmental actions that led to the respective future states. These scenarios help at challenging the prevailing mind-set of consumers and producers and help various actors with options to react to the change quickly.
Final outcome will be a roadmap that would give out specific technological implementation steps combined with legal measures for the actors involved and would help them in prioritising goals to move away from extractivism. It will be based on the group interviews that are planned in the final phase of research work – to identify key steps to accomplish the normative scenario (feasible, desirable situation in 2032, which is prescriptive in nature).
Learn more about this research:

Research Case 4
Authors: Kirsi Kukko and Siddharth Jayaprakash, Aalto University
Continuous-carbon-fiber-reinforced 3D printing of a small link design and its lifting demo
Challenge:
Novel approach for reinforcing polymers and optimizing end-use parts with long continuous fibers, thereby improving the overall strength.
Solution: 
Currently utilizing Anisoprint Composer A4, acquired as part of ValueBioMat project, for 3D printing continuous carbon fiber (CCF) composites.
Prints are made with commercially available copolyamides and PETG. Small link designs made with PETG has been load tested in a lifting demo
Prints are currently being made using a bio-based PA11 filament made at VTT (from commercial material) as the matrix material.
Tensile tests are being conducted for the reinforced specimen 3D printed with commercial copolyamide filament and the in-house-made PA11 filament.
The work is supported by supported by extensive modelling and simulations to optimize the print path.
End goal is to use bio-based engineering materials produced from sustainable sources, within the ValueBioMat project, for 3D printing optimized designs (using the optimized print path from the simulation work)
Learn more about this research: