Author: Jouni Partanen/ Aalto University
For the last 2 months and more, the news all over the world have been concentrated on the pandemic spreading of the COVID-19 virus and its catastrophic medical consequences. Hospitals, even in many of the most developed countries, have been ill-equipped for the large number of patients needing intensive care at the same time. Scarcity of protective equipment for doctors and nurses compromises hospitals' capability for care.
Spare Parts and Consumables for Medical Equipment
3D printing is a manufacturing technology that can be quickly adapted for production of equipment or components for varying demands including emergency needs. The leading Finnish newspaper Helsingin Sanomat had a long article (HS-tiede-3D) in its science section about how 3D printing can be, and has been, a method for production of emergency supplies during the COVID-19 pandemic. The science journalist writing the article for the newspaper interviewed scientists from the ValueBioMat-project providing background material and details. For example, a very experienced Finnish 3D printing service bureau, Ajatec Oy, is producing frames for face-shield visors for medical personnel. In a collaborative effort, members of the ValueBioMat team are joining forces with the scientists from another Strategic Research Council (SRC) project, Manufacturing 4.0 (MFG40), leveraging the expertise as demonstrated in this blog post: MFG40-blog.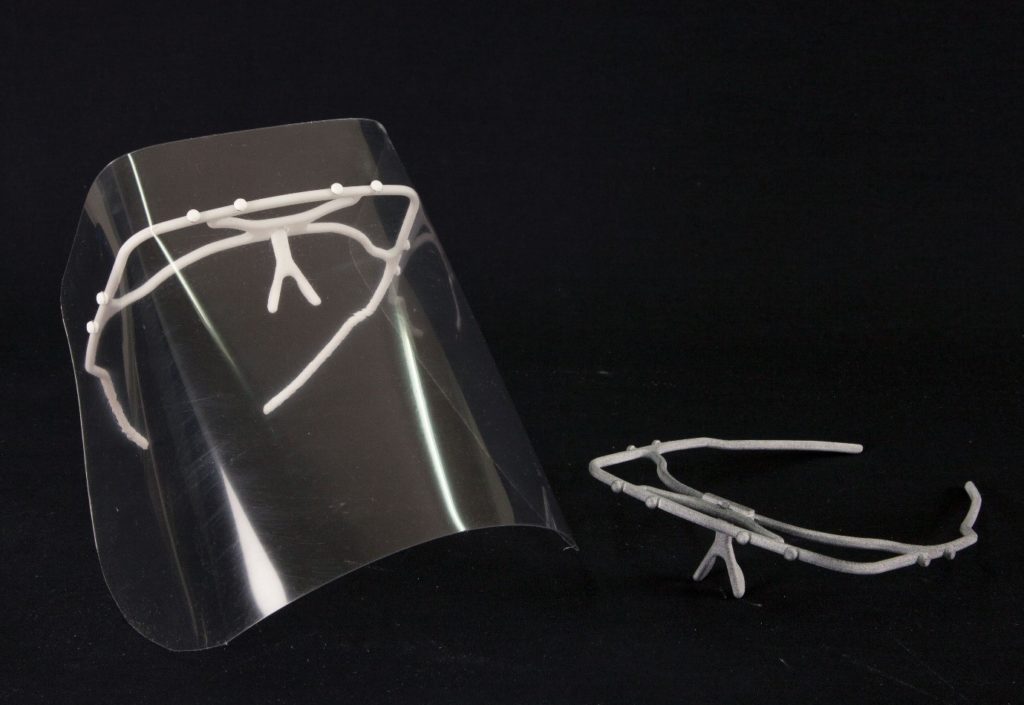 Local Supply Chain
Fast adaption of 3D printing to different designs is a useful property for this production method and it can have a significant impact on simplifying supply chains. Dr. Siavash Khajavi, a former joint doctoral student of WP3 leader Prof. Holmström and me, explains this supply chain simplifying effect well in relation to the fight against COVID-19. In a recent article, written together with one of his colleagues from Aalto University and with former CEO of GE Additive Inc., Mr. Mohammed Ehteshami, they elaborate about the benefits of 3D printing in simplifying supply chain considerations for availability of protective equipment, consumables, components, and other spare parts. This article was published with worldwide circulation in TCT Magazine, TCT-Covid-19.
The simplifying effect to the supply chains is also important for the ValueBioMat-project looking beyond the emergency medical applications. Future biomaterials replacing plastics will hopefully be produced locally close to the point where they are used as bioplastics for devices or components. We can start to think about local production of almost everything, not just food like we think today. The only thing that does not need be local is the digital data defining the production process – i.e. it will be global and travel long distances almost instantaneously. The outcome is reduced shipping of goods and it has environmental impact beyond the energy consumption for transportation. The additional impact comes from more accurate prediction of demand due to faster delivery and significantly smaller amounts of material in storage warehouses all over the world.
"We can start to think about local production of almost everything, not just food like we think today."
3D Printing Leading the Way for other Manufacturing
3D printing as a production method stands for only a tiny fraction of the total manufacturing market. Thus, it would be unrealistic to expect that the goal of this projects could be to utilize 3D printing of biomaterials to replace the very large fossil oil-based plastics industry. Instead, the goal for the ValueBioMat-project is, to use 3D printing as a versatile and widely adaptable technology that uses digital processes for product optimization. The project will demonstrate and pave the way for larger utilization of biomaterials in other more widely used methods of production. We plan to develop new materials and processes for demanding applications that will demonstrate that, by utlizing biomaterials properly optimized for mass production, one can reduce the usage of oil-based plastics as environmentally harmful technology.
———————————————————-