Author: Katri Valkokari/ VTT
Scenarios are "scripts" about the future: plausible, spot-on, and they should also challenge and broaden our current ways of thinking. The four scenarios, future archetypes[1], utilized here as starting points are based on a broad analysis of people's images of the future: corporate and public long-range plans, political statements, public opinion polls, futures in science fiction, books, essays and articles about the future, etc.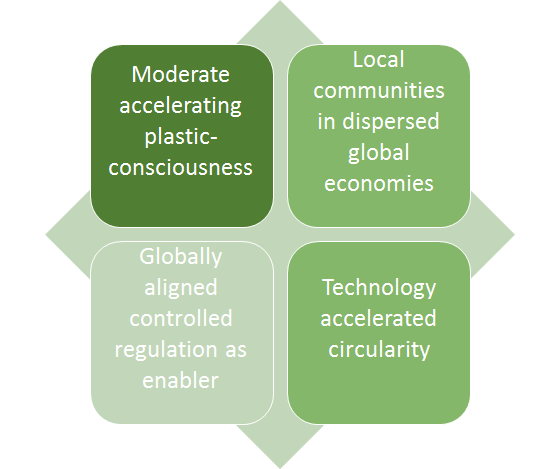 Based on four generic futures:
Continued Growth: "The official future"
"A social and/or environmental breakdown"
Discipline: "Strong limits, regulation and refocus"
Transformation: "Technology-driven transformation of all life"
We have built four scenarios of bio-based and circular plastics over a 10-year timeline (Figure 1).
Continued Growth: Moderate accelerating plastic-consciousness
The first scenario features moderate and self-sustaining development towards wider use of bio-based and recycled plastics. Increasing consumer awareness drives the development of new technologies and new business models, as well as regulation. As new solutions become more common, it further accelerates demand as well as investments in new technologies in plastic production and recycling. For example, both mechanical and chemical recycling of plastics progresses considerably. In any case, the development is rather slow and there is no expected giant leap occurring within 10 years' time. Also, impacts on business and the environment remain rather moderate.
In order to realize this scenario, investments in both recycling and bio-based plastic technologies are needed. This opens new possibilities for novel business models, actors and sustainable growth.
Breakdown: Local communities within closed and dispersed national economies
Protectionist policies lead to the collapse of world trade, resulting in national closed economies, and globally, fragmented environmental policies. Due to closed and reduced material flows, raw materials become a key piece of the global game. New forms of critical material alliances replace the current geopolitical balance. Thereby, critical resources are changing the game faster and it is harder to predict the development paths. The weakening of international agreements will hinder and reverse progress toward environmentally friendly practices at a global level.
Thus, local communities that share resources and the interest to enhance the wellbeing of the environment are strengthened. In technology development, the need to exploit local material streams and raw materials grows. Development focuses on decentralized production technologies. The processing of limited recycling streams is mainly done manually.
Discipline: Globally aligned controlled regulation as an enabler
Regulations and various incentives have steered attitudes and consumption patterns towards sustainable development. Regulation guides companies towards environmentally conscious business and forces technologies into transformation. In this scenario, an agreement has been reached on the international rules of the game. This allows for closer international cooperation and, for example, the collection and recycling of rare fractions (e.g. bio-plastics). Production and use of fossil-based raw materials are limited. At the national level, regulation-based development creates new revenue models and accelerates collaboration and new ecosystem approaches.
State incentives support the circumvention of bio-based streams and the entry of new small players. Public actions will enable the development of new profitable earnings models, as has been done, for example, in the wind power sector.
Transformation: Technology accelerated circularity
Legislation directs technological development away from the use of fossil raw materials and towards renewable raw materials. Significant funding is channelled into research and technological development, which enhance significant transformation. Technological development promotes the sustainable cultivation, harvesting and transportation of raw materials as well as the production and processing of plastics. Customized products and manufacturing on-demand are now possible. Some decentralized manufacturing and mini-factories exist, but large-scale mass production is also still required. As efficiency of recycling, reuse and remanufacturing increases, this increases the incentives to use bio-based and circular plastics on the consumer's side and to provide them on the producer's side. It is therefore notable that increased efficiency alone does not guarantee decreased environmental impact of the plastics ecosystem.
What are the effects of alternative futures on bioplastics and circularity?
A summary of the scenario work and the key findings are found in Table 1.
Table 1. The effects of alternative futures on bioplastics and circularity
| | | | | |
| --- | --- | --- | --- | --- |
| | Moderate accelerating plastic-consciousness | Local communities within closed and dispersed global economies | Globally aligned controlled regulation as an enabler | Technology accelerated circularity |
| Circularity of plastics | Both mechanical and chemical recycling are increasing expressively notably | Restrictions on the supply of raw materials and the price encourage recycling | Recycling prevents plastic waste from entering the environment and reduces CO2 emissions | Single use decreases and novel material recycling, reuse and remanufacturing technologies transform the current value chains |
| Bioplastics | The share of bioplastics increases as they become more common (slow development) | The share of bioplastic varies based on availability of raw materials, for instance in Nordic markets the share will significantly increase | Bio-based materials are supported by limiting the use of fossil-based raw materials and promoting the use of different side-streams as raw materials. There are no regulatory barriers to the use of bio-based raw materials | The share of bioplastics is significant at the global level; new enabling technologies are the key drivers and regulations and incentives support the transformation |
What will happen next?
The ValueBioMat project has active stakeholder collaboration. To stay updated, follow us at twitter (@valuebiomat) and check our web pages.
We also invite you to submit an abstract for the Sustainability Science Days organized on the 6-7th of May 2020 in Helsinki & Espoo, Finland. Abstract submission is open until the 19th of January 2020. At the event, we will organize a session entitled: Sustainable bio-based plastics innovation ecosystems through disruptive business and regulation.
———————————————————-
[1] The approach of alternative futures is developed by professor Jim Dator et al. at the Hawaii Research Center for Futures Studies, and it has been a popular scenario method for decades. We build the scenarios via a workshop with a multidisciplinary team of researches: Kirsi Immonen (material technologies), Sini Metsä-Kortelainen (digital production), Markus Jähi (business models and servitization), Katri Valkokari (networks and ecosystems), Henri Wiman (system dynamics), Peter Ylen (systemic changes), Pauli Komonen and Tiina Apilo (future studies and facilitation).